I am so excited to announce Body Revision's October 20th 14 year business Anniversary!!!
This will be an opportunity to announce Body Revision's" Team Vegas"!!!
A new Team in Competition Training that includes Bikini, Figure, women's Physique, and men's Physique Competitors!!!
BR Team Vegas will be a Professional and Affordable approach to Group Competition Training!
BR 14 year Anniversary will be held at Freddie's Nutrition on Sahara and Buffalo in Las Vegas!
Dr Jason O Jaeger will lecture about health, longevity and Injury prevention .
Eric Sparks ( a well known Physical Therapist in Las Vegas) will demonstrate the DMS or Deep Muscle Stimulator I injury recovery and dealing with inflammation, bursitis, and other conditions.
Pamela Allan will perform Thai Massage, which goes hand in hand with injury prevention as well as recovery!
Britnie Vertucci is ready to give you a make over and make you look and feel beautiful!!!
Patrick Shepherd will be serving healthy snacks!
Patrick owns his business that will cook and deliver to Competitors as well as non Competitors!
Food is weight and prepared as ordered….
Champagne, Orange Juice, and Water will be served 🙂
Also we will raffle out prices like Free Personal Training, BR Team Vegas Tank Tops, Free Hairstyle, Free DMS Treatment and many more!!!
Come and Celebrate with us and this Amazing Business!!!!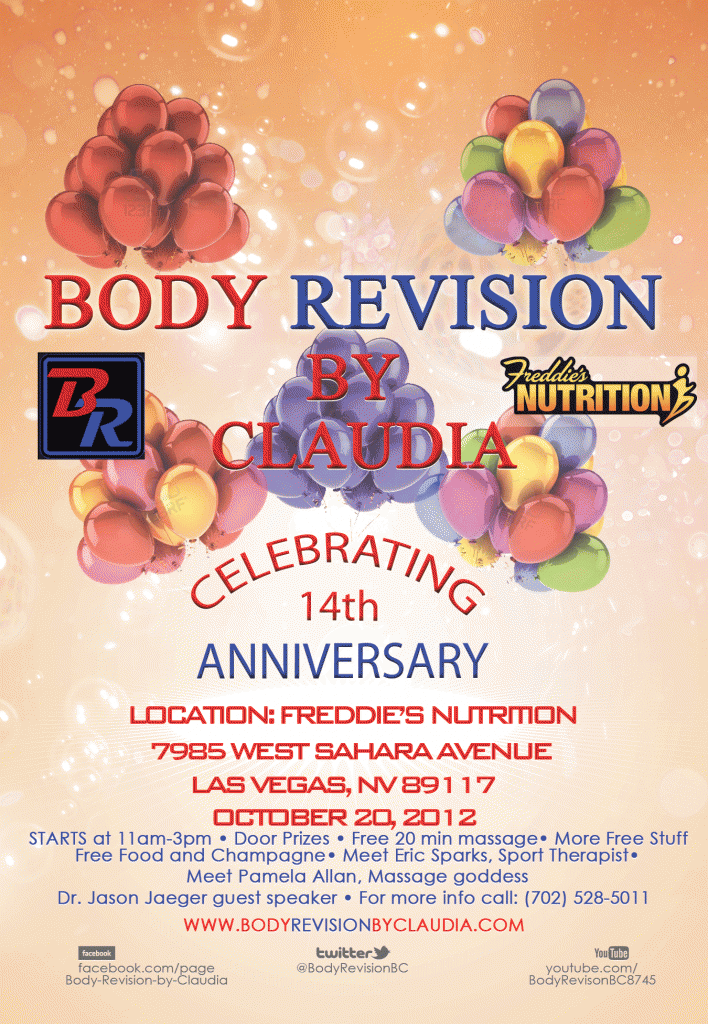 Join Body Revision October 20th at Freddie's 😉